'Tis the season for graduations and graduation gifts. While it is easy to throw cash into an envelope and call it a day, I always love to give a gift that the grad will remember forever.
Sophia just graduated this past weekend and her graduation party is coming up next month which means it is time to brainstorm the best gift for her. Below are a few unique ideas for gifts to give to the grads in your life this year.
1♦ A Gift Card Wreath
While cash is always a nice gift, it is also nice (and much appreciated) when you receive gift cards to your favorite restaurants. This comes in extra handy when your grad is going from high school to college and they want to eat somewhere that is outside of their meal plan (cafeteria food gets old fast… trust me). You don't have to drop a lot on this either. Give a $10 gift card to Subway, Pizza Hut, and Starbucks mixed with a few $5 gift cards to Wendy's, Burger King, or McDonalds ($1 menus for the win!). Your grad will be forever grateful.
To assemble this wreath cut a circle out of a poster board and use double sided tape to fix the gift cards to it. If you want to get a little extra with it, make a few dollar bill flowers and place them between the gift cards.
Here are a few examples that I found on Pinterest.
↓
2♦ Everything Laundry Basket
I was truly blessed in college to never have to worry about heading to the laundromat since I commuted from home. Some other grads are not so lucky and can't count on mom to do their laundry once they start school. So why not help them out a little with a fully loaded laundry basket. Here is what I would add that would help out more than you know:
A laundry basket

A laundry bag

Laundry detergent

Fabric softners

Scent boosters for the wash

A mason jar full of quarters
It is that easy and so useful for their first semester at college.
3♦ Custom jewelry or money clip
The internet is saturated with fun jewelry for the new grad in your life. From bangles, to cuffs, to necklaces, to rings, the options are truly endless. Especially when these jewelry designers give you the freedom to personalized your product down to the type of metal your prefer.
An alternative gift to money in an envelope is a custom stamped money clip that reads "oh the places you will go":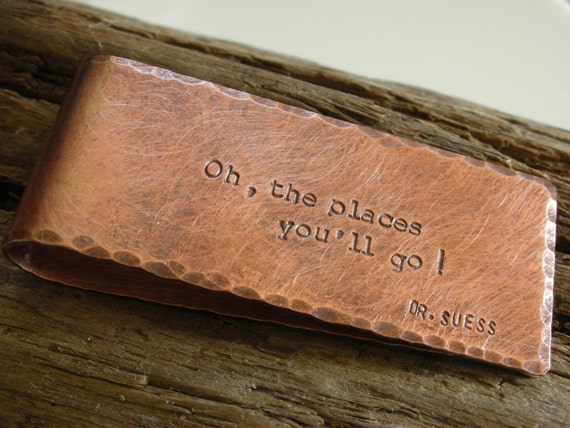 Bonus points if you slip a little bit of money into the clip.
Or you can customize a bangle with the college they are attending or their name: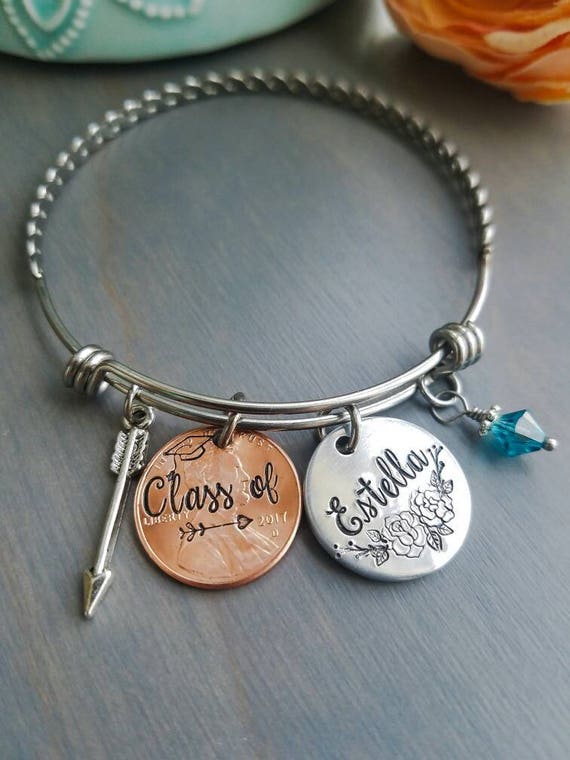 Also if you didn't know by now, I also hand stamp bracelets and other objects that are perfect for the grads in your life. Take a look at what I have to offer at
4♦ Custom College Sports Gear
While I did love the shirts that Pitt offered for sports, after two years I feel like they never offered anything new. Why not give your grad a personalized sports shirt from my girl Nikki at Belle and Whistles!
She offers sports gear like none I've ever seen and since they are so fashion forward, they are perfect for your grad.
5♦ Gift cards to their local grocery store
This goes along with the gift card idea posted earlier. Find out what school they will be attending and see if there are any grocery stores within walking distance (or a short bus ride) and give your grad a gift card there. Giving them a little bit of home with them. While it is fun to go out to eat and see your friends everyday, sometimes it is nice to go back to your room after class, make a little meal for yourself, and binge watch Netflix.
I hope this post gives you a little idea of gifts you can give to your grad this year.
Do you guys have any fun presents that you have given or are planning on gift to your grads? If so what are they?
As always,